Take your experience to a whole new level!
With an innovative, modern interface featuring powerful navigation capability with C-MAP® support, you'll see everything like never before. The NSXTM features integrated Sonar, full Radar and Autopilot systems compatibility, and with our handy Setup Wizard tool you'll be up and running in no time. All you need to do now is choose your next adventure.
A new, intuitive touch screen experience
Crystal clear, high definition views
NSXTM pairs a clear and straightforward interface with high-definition visuals to deliver a whole new experience.
Easily access and use all NSXTM features, including smart drag-and-drop screen customisation, fully editable instruments bar and enhanced day and night modes. Get crystal clear views of chart details, structure and bottom contours with the vibrant SolarMAXTM IPS touchscreen – viewable from any angle, in direct sunlight, and through polarised lenses.
Modern simplicity in an interface
Making it easier to access and use all of the NSXTM features.
Viewable from every angle
Get crystal clear views of chart details in direct sunlight and even through polarized lenses.
Fully editable and customizable
Smart drag-and-drop screen customization and fully editable instruments bar.
Enhanced day and night modes
Be ready to go in all weather and lighting conditions.
Powerful C-MAP® navigation capability
See map details in a new way
C-MAP® DISCOVERTM X and REVEALTM X marine-optimised charts feature a fresh, intuitive chart presentation and the latest updates.
C-MAP® charts include full-featured Vector Charts with Custom Depth Shading and High Resolution Bathymetry showing accurate contour lines down to a 1-foot level of detail.
Improve planning and route plotting with Tides and Currents projections and our fastest ever Autorouting. Plus, there's a new Map Inspection feature with one-touch access to information on locations, POIs, tides, channels and more.
C-MAP® DISCOVER™ X and REVEAL™ X charts
Next-generation charts featuring a fresh, intuitive chart presentation and daily updates.
Integrated with the Simrad® Companion App
Plan trips, review Tracks and plot Waypoints, and sync directly to your NSXTM
High Resolution Bathymetry
Showing accurate contour lines down to a 1-foot level of detail.
Our fastest ever Autorouting
Automatically determines the best route to reach a destination.
Full Sonar, Radar & Autopilot Suite
Expand your system with advanced Simrad® technology​
Identify hazards with HALO® pulse compression radars, stay on course with Autopilot systems and experience a range of integrated Sonar.
Get high resolution images below and to the sides of your vessel with Active Imaging™ and CHIRP sonar, SideScan/DownScan ImagingTM and FishRevealTM. You can even search greater depths with a wide range of compatible 1kW transducers.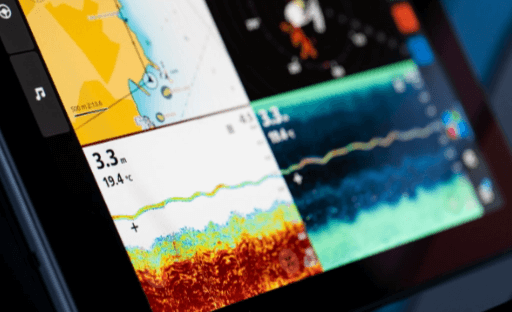 CHIRP sonar, SideScan/DownScan Imaging™ & FishReveal™
Get high resolution images below and to the sides of your vessel. ​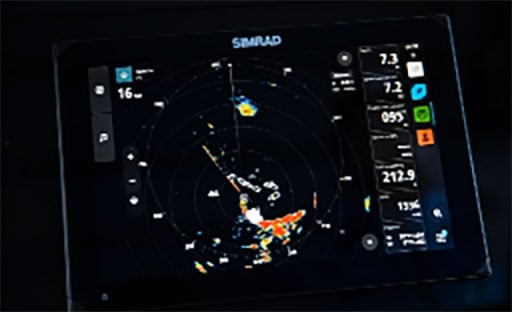 Award-winning pule compression HALO® radars
Identify hazards immediately and see near and far simultaneously.​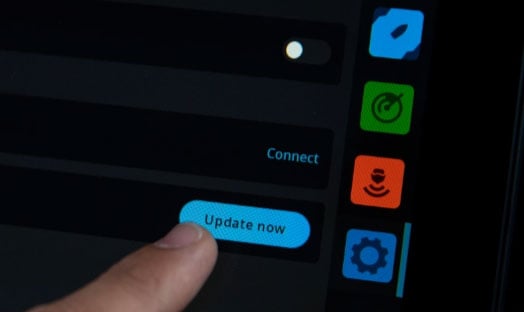 Ultra-fast updates every second
Highlight targets in specific environments using custom modes such as harbour, offshore and weather.​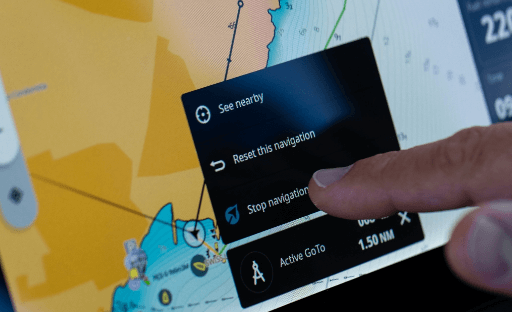 Stay on course
Navigate to waypoints and run patterns and routes with ease.
Easy-to-use Setup Wizard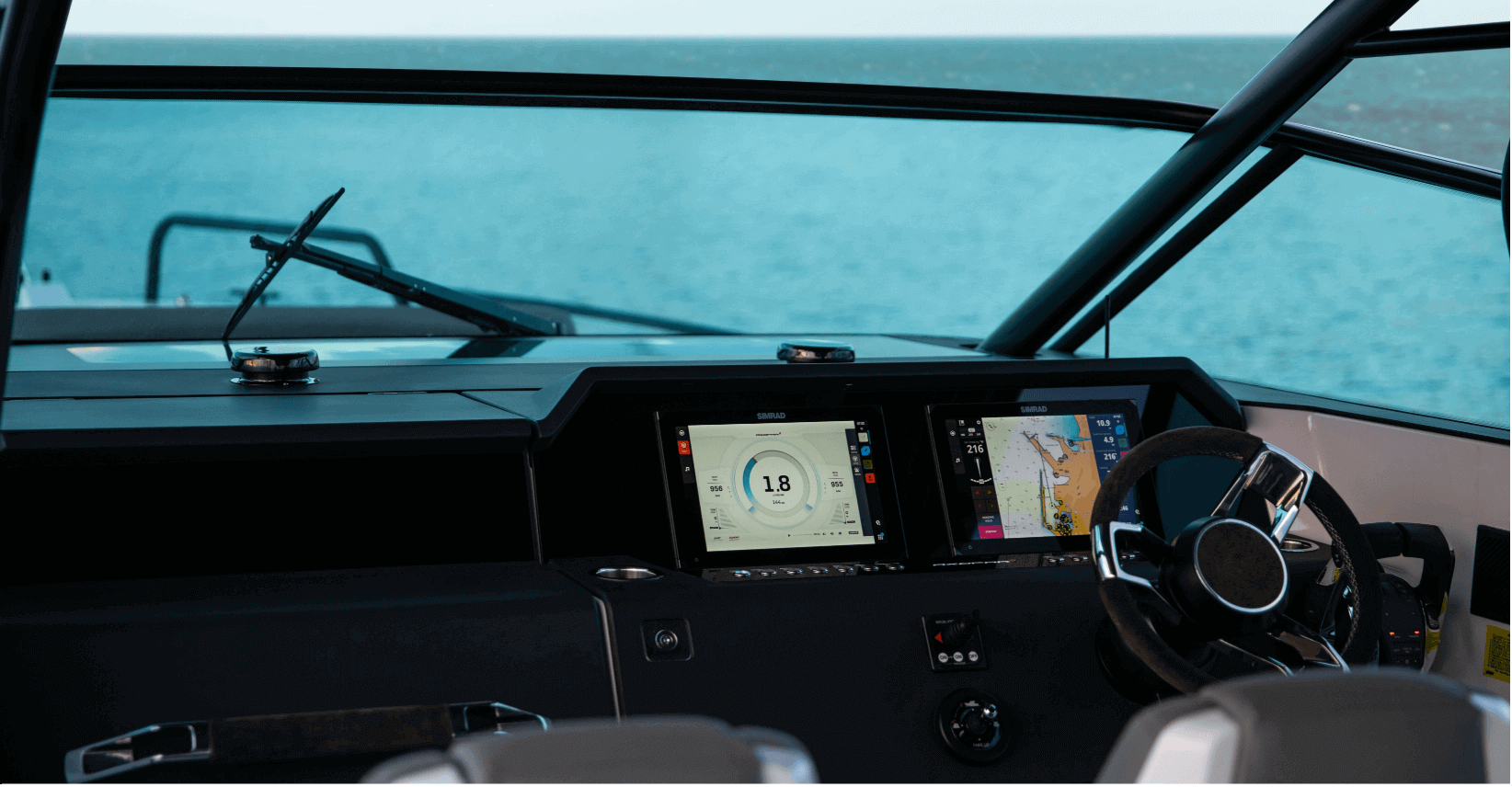 Life on the water is easier than ever before
With everything from a Setup Wizard to Simrad® App integration, you'll be up and running in no time.
The Setup Wizard helps with step-by-step instructions to get you up and running quickly, while the Simrad® App offers a whole host of added extras. These include hassle-free software updates, on and off the water trip planning, a streamlined chart display that looks the same across all platforms, plus easy transfer of all data, including routes and waypoints.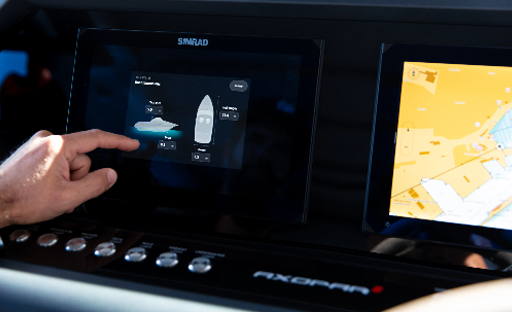 Simple device setup
Featuring easy-to-understand prompts and settings adjustments for each step of the process.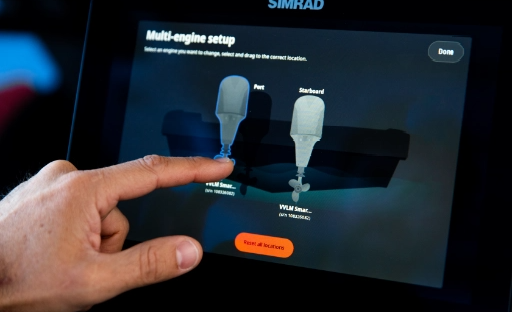 Get your system up and running in no time
Engine and tank setup, Autopilot optimisation, Radar dockside and on the water calibration, and much more.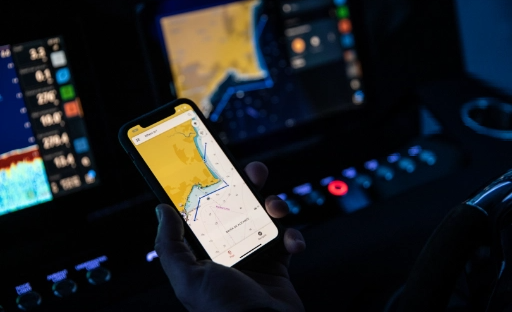 Hassle-free software updates and data transfer
Keep routes, waypoints and more up-to-date with the Simrad® App
Hear from the team
Other cool things you can do with NSX

Switch applications instantly via the Activity Bar
Fast and easy switching between applications at the touch of a button. Accessible via the always visible Activity Bar – no need to go back to the Home screen.

Change chart settings in a blink
All chart settings (including advanced features) are accessible at the touch of a button directly from the chart screen.

Access fullscreen mode in one touch
Expand to fullscreen view at the touch of a button from any splitscreen activity.

Access more detail as and when you require it
Map inspection – Selecting an object on a chart eg a marina or a marker buoy, gives you access to more information about it eg. detailed description, opening hours, amenities and more.

Instant chart orientation
A chart orientation button allows you to instantly change between north up, heading up and course up.

Easily manage all waypoints and routes
Waypoints and Route App allows the management of all waypoints and routes. Sort by location and filter in different ways eg. recents, alphabetically etc and export single or multiple waypoints.
Innovative display sizes
Get more screen for the overall size of your product and more flexibility to arrange your dash layout – multiple screen configurations in a smaller space or larger screens in an existing area.