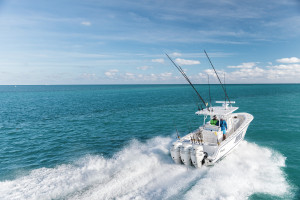 The most powerful Verado on the water
Now with a 3+3=6 year warranty
Mercury Verado Outboards and Hitech Marine - Proven Performance and Reliabilty. The best outboard engines deserve the best installation, propellor selection, engine height & set up, rigging and service - which is exactly what you get with a Mercury Verado from Hitech Marine.

• 150 kg lighter than competitor (425hp) Best-in-class power to weight from a lightweight design
• Years of proven performance backed by Mercury's 3+3 (6 year) warranty and 3-year corrosion warranty protection
• Up to 34% Quieter and much smoother with Legendary noise- and vibration-mitigating Advanced MidSection
• Mercury-engineered digital controls and electro-hydraulic power steering for smooth operation standard with the engine
• Improved knock-control system delivers strong, reliable performance on 89-octane fuel

For more information & the best Mercury Engine deals, see the certified team at...

Do it Once - Do it Right
Full Specifications – Mercury 400 HP Verado

HP / kW

Engine type

MidSection

Advanced MidSection (AMS)

Displacement (CID/CC)

Displacement (L)

Cylinder Configuration

Inline 6 with Dual Overhead Cam [DOHC] and 24-valves

Full throttle RPM

Air induction

Supercharged with charge air cooling and electronic boost pressure control

Fuel induction system

Sequential multi-port electronic fuel injection (EFI)

Alternator amp / Watt

70 amp / 882 watt (Belt-Driven)

Recommended fuel

Unleaded Regular 89 Octane Minimum (R+M)/2 or 93 RON Unleaded 91 Octane or 95 RON for premium performance in all conditions 10% Ethanol Maximum

Recommended oil

Mercury FourStroke 25W40 Marine Oil

Engine protection operator warning system

SmartCraft Engine Guardian

Compatible with SmartCraft digital technology

Starting

Electric Start with SmartStart Protection

Controls

Digital Throttle & Shift (DTS)

Steering

Electro-hydraulic power steering

Joystick Piloting for Outboards

Shaft length

20" / 508 mm

25" / 635 mm

30" / 762 mm

Gearcase ratio

Dry weight *Lightest model available

CARB star rating

Bore and stroke

3.23 in x 3.23 in / 82 mm x 82 mm

Ignition

SmartCraft Digital Inductive

Cooling system

Water-cooled with thermostat & pressure-controlled

Gear shift

Gearcase options

Trim system

SmartCraft programmable trim and tilt

Exhaust system

Counter Rotation

Color

Cold Fusion White

Pearl Fusion White

Phantom Black

Warm Fusion White

Lubrication system

Oil Capacity

Maximum Trim Range

Maximum Tilt Range