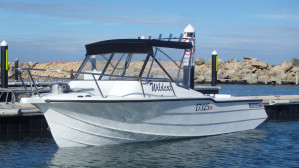 This Glasscraft Wildcat is the "Hitech Marine 2018 Mercruiser Repower of the Year" it is the best Glasscraft that has ever come through our workshop and is credit to its owner.

Fully restored and refitted out by the current owner it has had a very clever rear platform added without taking away from the outstanding performance of the hull design. The Dashboard area has been updated to suit a serious 16 inch Simrad screen which also displays engine data.
A modern windscreen combining over head consol, side clears and rear Stainless Targa was also added.
The new Mercruiser 6.2 300hp V8 engine package and Bravo 3 Drive supplied and fitted by Hitech Marine has resulted in very powerful, very economical power package, at cruising speed of 50Kph the Fuel injected Mercuiser use only 38 litres per hour and when opened up will easily reach speeds of 83Kph (45Knts)
Check out the performance figures below or download the full version...

For more information, the right advice & the best Mercruiser Engine deals, see the certified team at...

Downloads