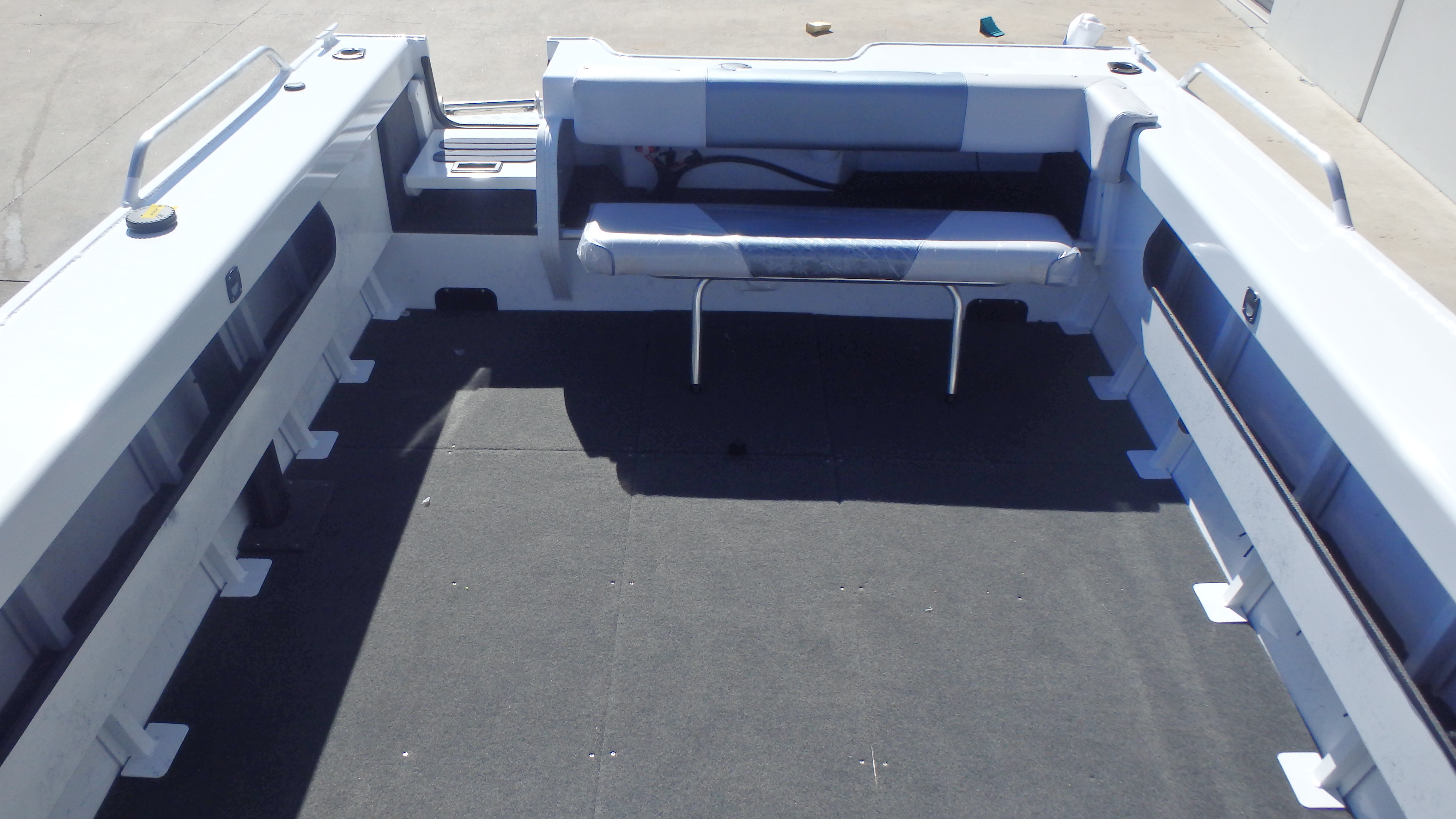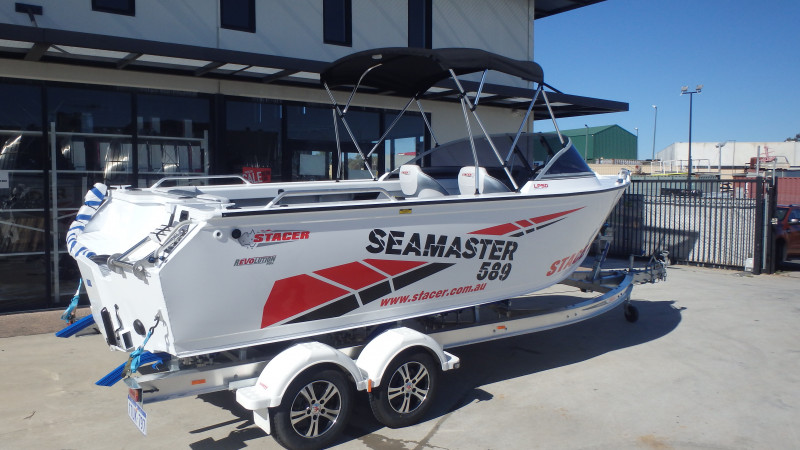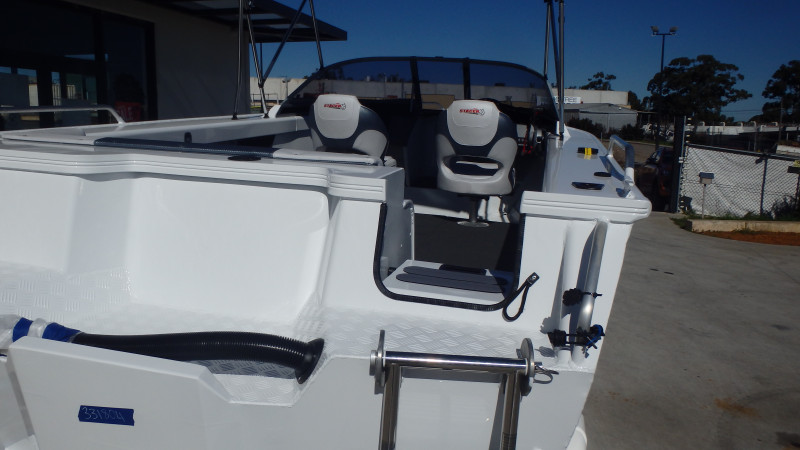 One of the most popular styles Stacer offers, the 589 Sea Master is now the biggest runabout model boasting a massive 2.35m beam and whopping 5.96m length, this boat is extremely roomy! The 589 Seamaster is the biggest runabout in the Seamaster range. It features a large accessory kit, rod holders and a foldable rear lounge. The boat also comes standard with a bimini and envelope, a scupper drainage system and underfloor flotation for extra support, making it suitable for any weather. It also features Stacer's brand new "Revolution" Hull!!!
This Package Includes;
*New Mercury 150HP EFI Four Stroke Outboard Engine
*New Stacer Aluminium Tandem Axel Trailer
*6ft High Bimini
*Extended (25") Transom.
*Transom Door
*Hydraulic Steering
*VHF Radio with Antenna
*Offshore Safety Kit
*Boat and Trailer Registration
*Drive Away, NO MORE TO PAY!
Stacer's new Revolution Hull expalined;
Forget everything you know about boating. Stacer's new Revolution Hull is set to send shock waves through the industry with their most superior hull deign to date.
The release of the Revolution Hull coincides with Stacer's new model release for 2018 and features across their new range of runabouts- the Seamaster, the revamped Crossfire range, the new bowrider range – the Wildrider and of course the Stacer favourite the Assault Pro.
The Evolution to Revolution
The Revolution Hull has been developed through the natural evolution of the Stacer's famous and renowned Barra and Assault Pro Hulls.
Cutting Edge Design
Stacer's in-house Research and Development team have spent extensive time not only designing and creating the perfect formula for a softer, stable and superior riding hull but testing and trialling performance in a multitude of conditions.
The final product, the Revolution Hull, combines a concave bottom sheet design with Stacer's EVO advance pressing and a raised chine creating a high performing hull that glides over the water.
Revolutionary Ride
Stacer knows it is all about the ride and rough water performance. Stacer advocates and new boaters a like will be impressed with this development
The high performing Revolution Hull offers a complete enjoyable experience, delivering a balanced ride with superior stability underway and at rest.
Specifications
Beam: 2.35m
Bottomsides: 4.00mm
Depth: 1.30m
Height on Trailer: 0.00m
Length Maximum: 5.96m
Length on Trailer: 7.90m
Main Motor Weight: 256kg
Max. HP: 150hp
Number of People (Basic): 6
Topsides: 3.00mm
Transom Material: 4.00mm
Transom Shaft Length: L/S
Weight (boat only): 730kg
Features
Accessory Kit
Active Imaging 3-IN-1 Transducer
Anchorwell
Cleat on Front Deck
Cleat On Transom Corners
Cockpit Lights
Covers: Bimini and Envelope
Floor: Carpeted
Fully Welded Gunnels & Side Decks
Gunnel Bump Rubber
Internal Side Panels
Maxi Bracket
Non-Return Scupper Drainage System
Painted with Stripes
Pedestal & Slider Helsman
Pedestal Navigator
Pod Transom
Pole Mount Insert
Radio GX750B VHF, 18" Whip
Rails: Aft Short side
Rails: Low Bowrails
Rails: Transom Handrail
Rear Ladder
Revolution Hull
Rod Holders (2)
Seat: Folding Rear Lounge
Seat: Maritme
Seat: Transom Backrest
Side Decks Rolled
Side Pockets (2)
Stacer Walk Thru Deck
Steering: Non Return Mechanical
Transducer Brackets x 2
Underfloor Fuel Tank 118 Litres
Underfloor Storage
Windscreen