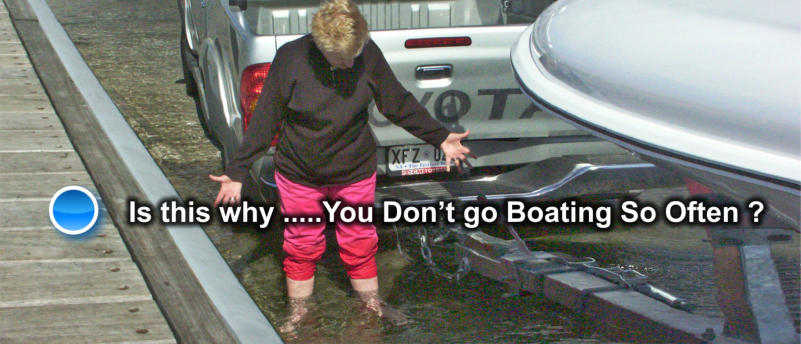 Videos
Boat Latch lets you…….
Get out in your boat more often,
Keep your partner …Safe, Dry and Happy
Take your boat out by yourself

Why it's the best option…….
No drilling new holes in your fibreglass boat ..... or welding your aluminium boat
Robust - Simple - Marine grade Stainless - Long term service history
The 'no strings or wires' attached boat latch - this one is automatic
Simple and Easy to fit
It Really Works !
How to Use
Drive On Boat Latch Launch & Retrieve
Set the latch to "Retrieve" (Starboard) position.
Reverse trailer into the water to a similar depth that was used for a "good launch" at this ramp.
Rear rollers/slides are about 50mm (2") below water. Too deep (common mistake), no roller resistance on approach and speed will be high and equipment may be damaged. Drive the boat onto trailer to within one metre of the latch and stop.
When the boat has settled (2 seconds), gently drive it up the last metre to the latch.
The latch will now slide over the snare and the boat will be securely held. Stop the motor and lift the propeller leg.
Move boat & trailer 3M (10ft) approx. out of water.
Attach the winch hook to the snare and winch the boat up so the bow is firmly on the roller or V-block.Secure safety chains and tie downs as usual. NOW move the boat to the car park.
Disengage latch for road travel.
More detail is available on the Launch & Retrieve operation in the Box Insert Brochure that comes with the product..
'Using Your L & R Boat Latch'This covers tips on how to use the product effectively.
This is a 6 page brochure, (printable) that is included in the box, coveringthe use of the product and all the various options.
Specification